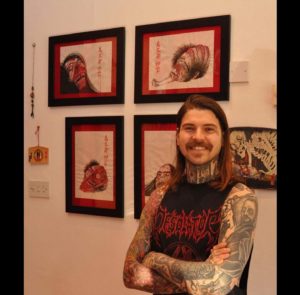 About Corvidae
Spawned in the depths of Essex, Will "Corvidae" Sparling celebrates an illustrious 15 year tattooing career, specialising in his own brutal style of graphic large scale Neo-Japanese and widely celebrated coverups.
There are a number of influences in Will's work which have made him the artist he is today. These range from the world of the Sega Mega Drive, the artwork and music of death metal bands such as Cannibal Corpse and The Black Dahlia Murder, to the incredible work of Japanese woodblock artists from the 1800s; like his main inspiration Tsukioka Yoshitoshi, one of the main contributors if not the originator of the Muzan-e movement with an incredible eye for detail while maintaining such beauty and form in often horrific subject matter.
Mixed with his love of Muzan-e art and classic Japanese tattooing, Will has turned these influences into a more contemporary direction for his work, titled appropriately:
"The Art Of Brutality".
Early stages of this could be first seen with Will's reimagining of a Japanese classic tattoo motif, the Namakubi. Where through experimentation with exposing layer upon layer of the human form, adding more intricate detail and eventually adding more and more emotion, we get what we have today. Just one of the many examples of contemporary tattooing, with a traditional heritage.
So with Corvidae armed with a 15 year knowledge of all styles, a mega driven love for tattooing, never ending passion for his work and a fascination with the evolution of craft he cares so much about. Why would you go anywhere else?
You can book your next tattoo with Will via email at corvidae.tattoo@gmail.com